Where is Comfort Mobility Medical Equipment Located?
Comfort Mobility is conveniently located in Apopka, Florida about 15 miles northwest of Orlando and 10 miles southeast of Mount Dora.
We serve the areas in and around Central Florida... Apopka, Orlando, Winter Park, Altamonte Springs, Cassleberry, Longwood, Maitland, Ocoee, Mount Dora, Zellwood, Clermont and Eustis.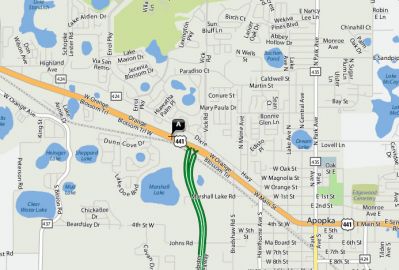 1081 West Orange Blossom Trail
Apopka, FL 32712
TEL: 407-880-2462
FAX: 407-814-6816
Business Hours:
Mon – Fri: 10:00 am to 5:00 pm
Sat: 10:00 am to 2:00 pm
Sun: Closed
Closed on the following Holidays:
New Year's Day,
Memorial Day,
Independence Day,
Labor Day,
Thanksgiving Day,
Christmas Day.
Special closings:
Fri Nov 26 2021,
Sat Nov 26 2021,
TBA.
Custom Orders, Shipping and Delivery Available.
Serving Central Florida since 1999.